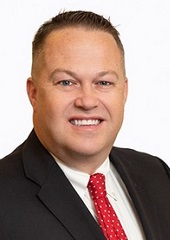 John Olsen
Vice President – Idaho
Commercial Leasing & Sales, Business Brokerage
License Number: SP44227
John Olsen has been in sales, sales management, financial management and executive management since 2001, having spent a significant amount of time with companies such as Verizon Wireless, Camping World, and most recently in the family accounting business, Olsen Hendricks CPAs located in Meridian, Idaho. He has significant experience negotiating with financial institutions on behalf of companies he has worked for and represented both buyers and sellers in numerous real estate sales and leases.
John studied business at Ricks College (now BYU-ID) and Boise State University. As a lifelong resident of the Treasure Valley, he has an extensive network of business contacts from which to draw on in assisting clients in the sale or purchase of a company.
He lives in South Meridian with his wife (Danielle) of 18 years, 1 son and 4 daughters. They enjoy RVing, Boise State Football, boating and all of the other wonderful activities available in the Great State of Idaho.